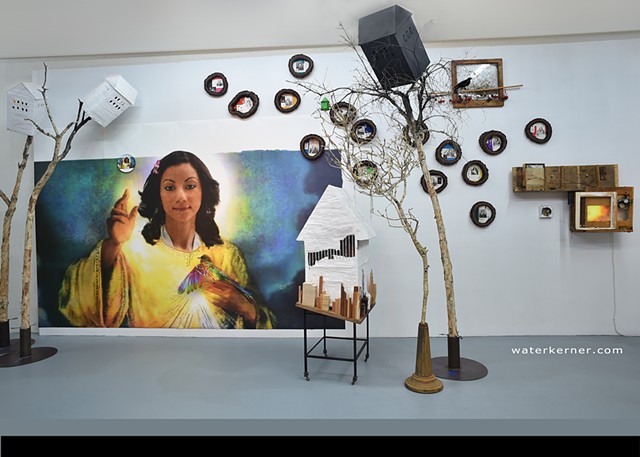 "Strength in Diversity" 2018-2019 Installation
Artist Statement:
"As a young artist growing up in New York, I was surrounded by acres of lush woods. Our mailbox was marked RFD #2 for "Rural Free Delivery". When I left home at 18, I had no idea I would only live in huge cities surrounded by glass & concrete walls reverberating man-made noises. Throughout my successful artistic career, I find it absolutely captivating my body and soul are still magnetized by the beautiful outdoors. Nature will always be the origin of my awe and my greatest mentor of originality. I believe the more virtual our lives become, the more we crave creative experiences with the power to engage our senses and connect us to our feelings and others." Water Kerner
Brief BIO:
WATER KERNER began creating art at the age of 5 in New York. She received her BFA from MICA (Maryland Institute College of Art) and was awarded the highly-coveted Skowhegan School of Painting & Sculpture Scholarship. Water's talents were nurtured by distinguished artists including: Francesco Clemente, Judy Pfaff, Mark di Suvero, Ed Moses, Ursula Von Rydingsvard, and Tom Clancy. After achieving the "Skowhegan Sculptor Merit Award", Water founded the pioneering studio L@it2'd ("Latitude") in Los Angeles, known as the first Hollywood animation boutique to create digital art for TV & Film. L@it2'd Inc. garnered a myriad of creative awards and recognition during the 17+ years Water acted as President, Director & Artist/Designer. Prestigious clients included: Warner Bros, Sony Pictures, DreamWorks, Walt Disney Studios, Paramount Pictures, Columbia Pictures, 20th Century Fox, David Fincher, Janet Jackson, Spike Jones, Jim Henson Company, Microsoft, Virgin Records, NBC, ABC, CBS, HBO, and Walt Disney Imagineering. Lati2d was also selected for inclusion in the Walter Annenberg USC Incubator program and 25 creative industry trophies grace Water's mantle at home, including two prestigious CINE Golden Eagles and the NAFDMA (National Association of Film and Digital Media Artists) Insight Award. In 2009 Ms. Kerner decided to focus entirely on her fine art inspired by the magic of light, motion and music. Her installations & sculptures have been shown across the United States and abroad. For a complete list of Art Exhibitions, awards, reviews, or Gallery and Museum shows, please select RESUME @ WaterKerner.com.