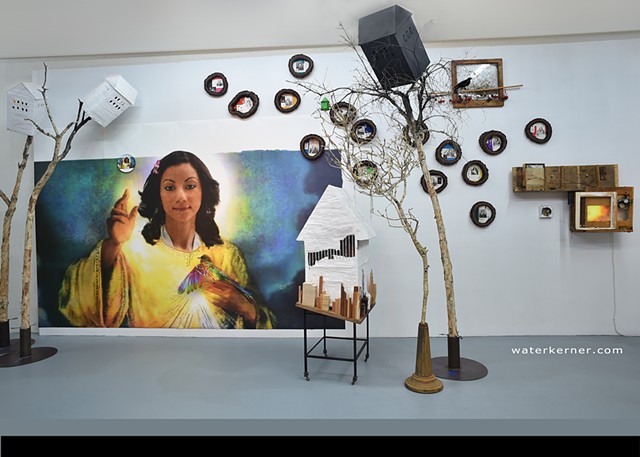 "Strength in Diversity" Brief BIO:
WATER KERNER began creating art at the age of 5 in New York. She received her BFA from MICA (Maryland Institute College of Art) and was awarded the highly-coveted Skowhegan School of Painting & Sculpture Scholarship. Water's talent was nurtured by internationally distinguished artists including: Francesco Clemente, Judy Pfaff, Mark di Suvero, Ed Moses, Ursula Von Rydingsvard, William Wegman and Tom Clancy. Ms. Kerner also garnered a myriad of awards and recognition over the 17 years she acted as Founder/President/Chief Designer of the pioneering Animation Studio L@it2'd ("Latitude") in Los Angeles, California whose prestigious clients included: David Fincher, Janet Jackson, Spike Jones, Warner Bros, Sony Pictures, DreamWorks, Walt Disney Studios & Imagineering, Paramount Pictures, Columbia Pictures, 20th Century Fox, Microsoft, NBC, HBO, etc.
Since 2009 Water has solely focused on her fine art which has shown in numerous Museums & Gallery Exhibits in the USA and abroad. For a complete EXHIBITIONS LIST please select "RESUME" inside the MENU above.
Artist Statement:
"Throughout my successful artistic career, I still find it absolutely captivating NATURE will always be the origin of my awe and my greatest mentor of originality. I believe the more virtual our lives become, the more we crave creative experiences with the power to engage our senses and connect us to our feelings and others." Water Kerner